In recent years, Sdui has established itself as a particularly simple and functional solution for digital communication in schools. The platform now also offers great added value for day-care centers. In the following blog post you will learn how Sdui works for daycare centers and what advantages the app offers for everyone involved.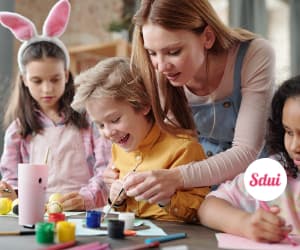 1. The apparently difficult path of digitization in daycare centers
The topic of digitization is becoming increasingly important, especially in the field of education in times of Corona, but also beyond.
Due to the temporary, short-term closings, a support concept had to be drawn up within a very short time. Working parents had to look after their children because the daycare centers were closed without further ado or could only offer emergency care. The planning, implementation and implementation caused massive effort for both educators and parents and generated additional stress.
Digital communication is initially difficult for daycare centers, as the educators are not allowed to use WhatsApp for work, for example. The messages always reach the parents via detours (parent committee), mostly via WhatsApp groups.
Sometimes information had to be sent twice, digitally and also in analogue, for fear that information could either be partially or completely lost digitally or not reach the right contact person. This creates double the workload and confusion as to which message has reached whom and how.
Get the concept for "Communication in Daycare Centers" now for free
In our concept for digital communication in daycare centers, all of the information mentioned here is really deepened again and other small help and tips are bundled in a PDF.
What is missing is a fast, uncomplicated but nevertheless secure communication channel that can be used by the educators among themselves, but also for communication with the parents.
Since security plays an important role, the tool used, its chat and cloud, should be a safe place to upload various file attachments such as images, videos or PDF documents with a clear conscience.
Some of the children lose contact with their playmates, as due to the fact that daycare centers are closed, children are only allowed to maintain contact in their own groups. Contact with children or friends from other groups is therefore very limited and it is difficult to keep in touch, to see each other or to play with each other.
2. But how well does Sdui's digital communication for day-care centers work in practice?
Often things sound better in theory than in practice. This is why this blog post is intended to give a brief insight into an experience report to show how Sdui can work and be implemented in practice. If you are interested in the full experience report, our information material is available for download free of charge.
The Kinderplanet day care center in Ramstein
The day care center, managed by Ms. Jelena Wagner, uses Sdui and is enthusiastic. At first, Ms. Wagner saw the digital path as difficult to implement. In their initial situation, it was complicated to reach parents and colleagues at home in order to communicate information quickly and safely.
When she came across the concept of Sdui, she was interested and wanted to test whether it really does what it says on the tin. She checked whether Sdui not only offers a suitable communication option for schools, but can also represent a real digital solution for every day care center.
Above all, the simple, intuitive structure of the app caused enthusiasm among Ms. Wagner and her colleagues. After the initial fear of being too complex and unreachable had been refuted and overcome, the Sdui concept was able to convince both educators and parents and has meanwhile become an integral part of the Ramsteiner Kita. The app makes everyday life noticeably easier and created a safe, closed space for all relevant people. Communication can now also take place over a distance, and planning and the sharing of information run smoothly digitally.
3. What help does Sdui offer with digital communication for daycare centers?
With the functions contained in the app, Sdui can support day-care centers with digitization and communication.
The following functions can be used optimally as communication options for daycare centers:
News function to share important announcements with selected groups: with attachments, read receipts, push messages and additional surveys and appointments
Timetable / appointment function that can be individually designed and adapted. It can be set for whom the appointments are visible.
Chat function with which you can choose between "one-way" or open chat, in order to enable an optimal exchange between parents and educators.
Video telephony function in which up to 150 participants have the opportunity to see their colleagues and playmates again. Parents and team meetings can also take place in compliance with the GDPR.
Cloud to have all important files and information in one place: instructions, explanatory videos, photos of events and more.
Translation function in which news and chat messages can be translated directly by parents into up to 20 languages ​​in order to really involve everyone.
Get the concept for "Communication in Daycare Centers" now for free
In our concept for digital communication in daycare centers, all of the information mentioned here is really deepened again and other small help and tips are bundled in a PDF.
4. Fazit
Since the topic of digitization - especially in the education sector - is becoming increasingly important, long-term, feasible solutions must be found.
Sdui was able to prove that the app also offers day-care centers an effortless communication option. Due to the intuitive and simple structure of the SDUI app, the topic of digitization becomes child's play for all relevant people, even without previous knowledge.
The goal of Sdui is to promote the topic of digitization also in day care centers and to actively support you in this step. Our team is at your side for all challenges and will answer your questions personally at any time. If you would like to find out more about the topic of "digitization for daycare centers", please download our free information material.
Concept "secure communication for daycare centers"