Fernunterricht & Wechselunterricht nach Stundenplan – sicher, schnell und ohne Aufwand
Wir begleiten Ihre Schule durch die Pandemie und darüber hinaus
How can Sdui help make daycare and school life easier right away? Learn more now!
"It is the biggest motivation for me to know that I have contributed to making the daily routine in schools or daycare centres easier in the long term."
Business Development Manager
Von der Schulschließung zum Ferunterricht in kürzester Zeit​​
Ihre Schule befindet sich im Lockdown? Mit Sdui verlagern Sie den Präsenzunterricht ganz einfach nach Hause, sodass kein Unterricht ausfallen muss. Per Schul-App können Lehrer, Schüler und Eltern sicher kommunizieren und den Schulalltag digital wie gewohnt fortführen.
Wir stellen Ihnen alle Funktionen für die Zeit des Lockdowns und je nach Bedarf auch darüber hinaus im Rahmen einer Testphase kostenlos zur Verfügung. Unser Ziel ist es, Schulen zu unterstützen und damit für einen geregelten Schulalltag zu sorgen, den wirklich alle sorgenfrei genießen können. Dabei soll es nicht um Kosten gehen. Sprechen Sie uns einfach an.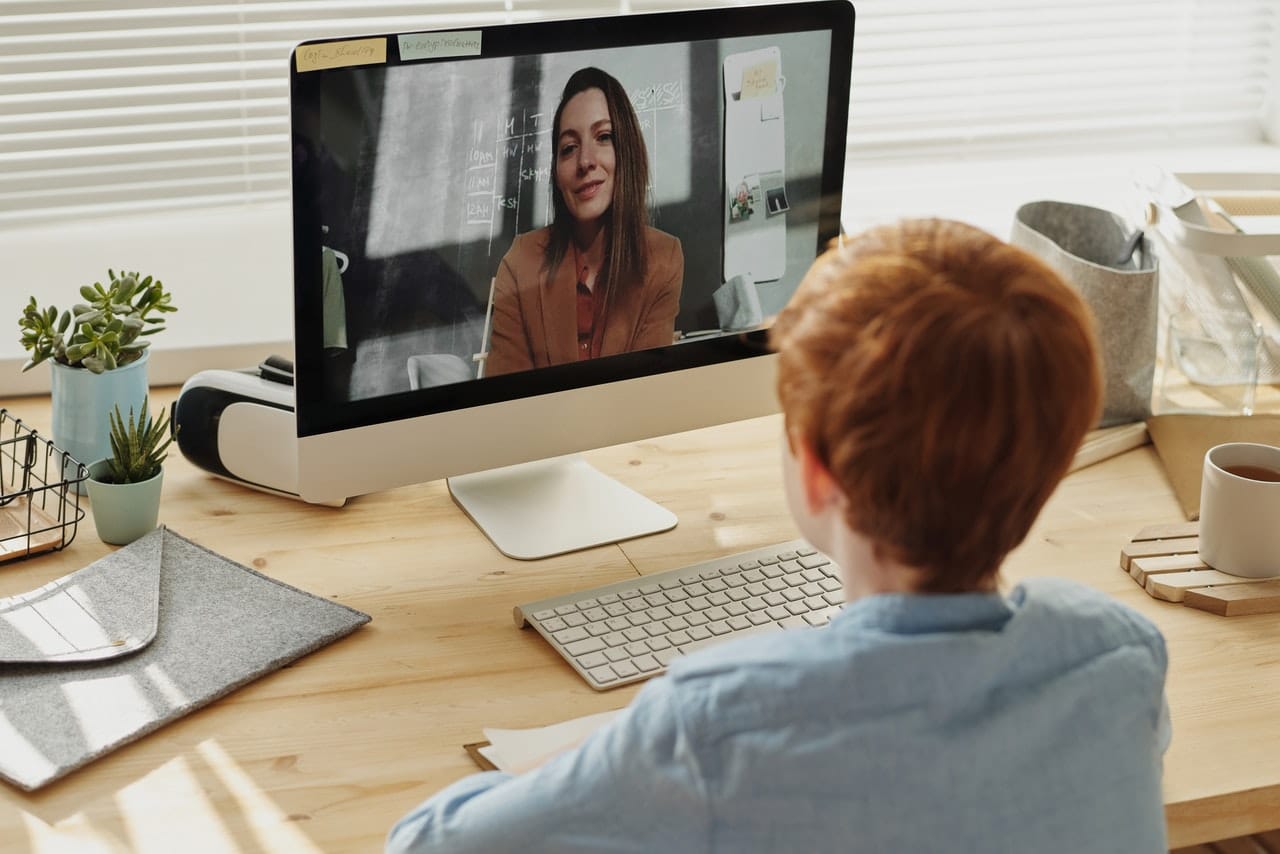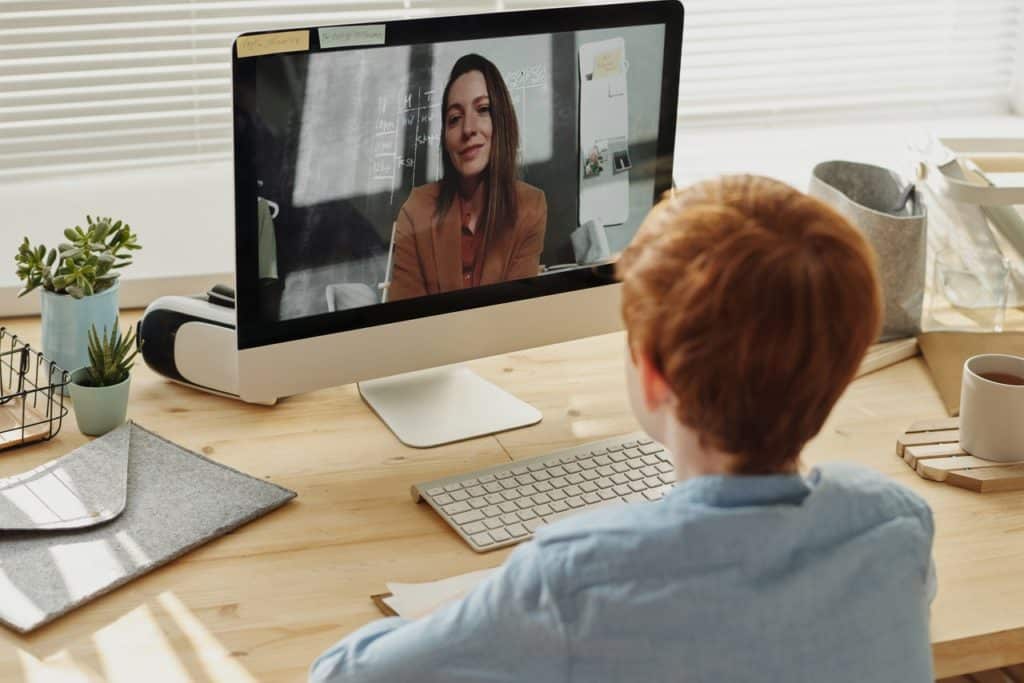 An overview of the most important functions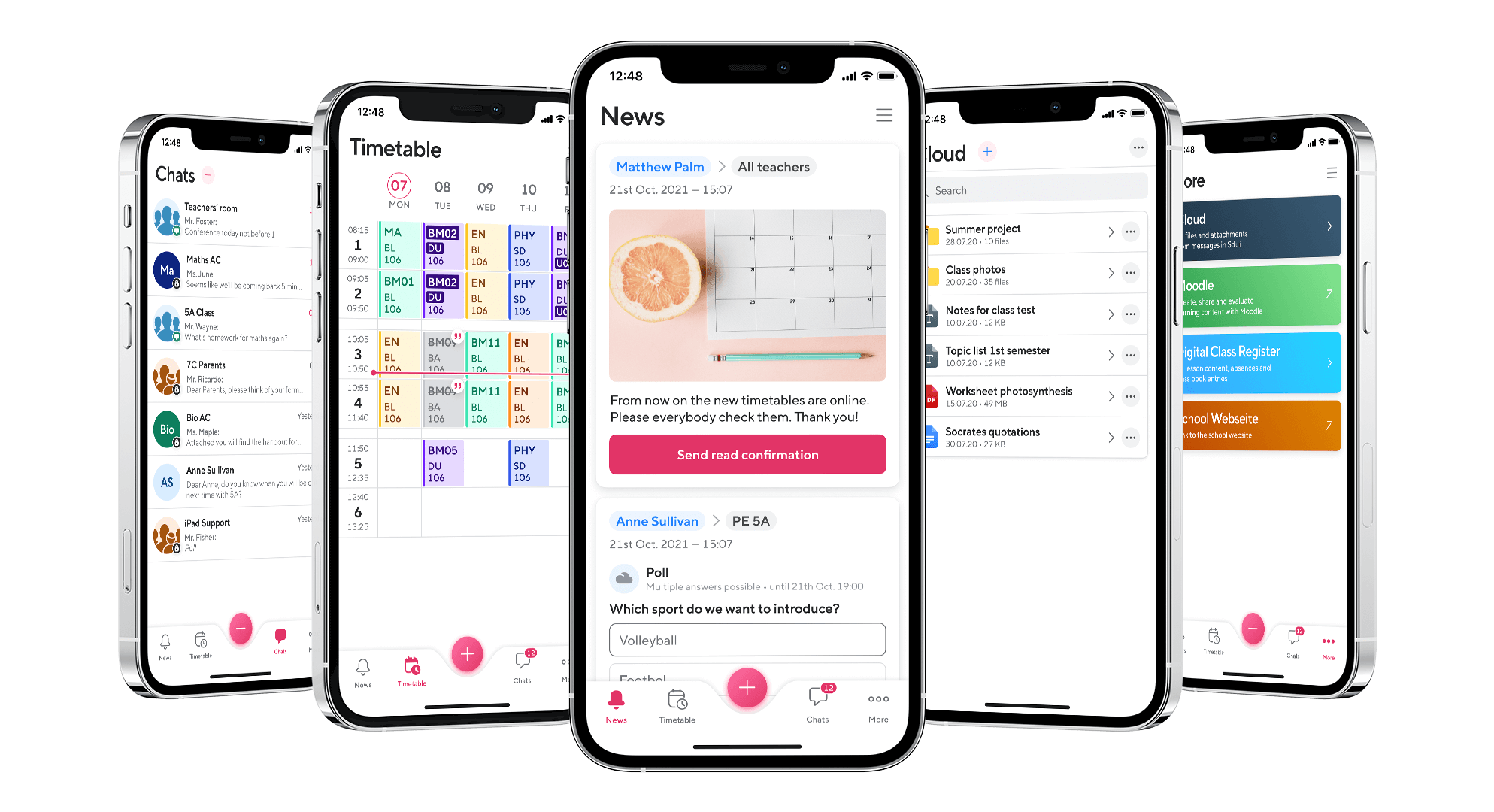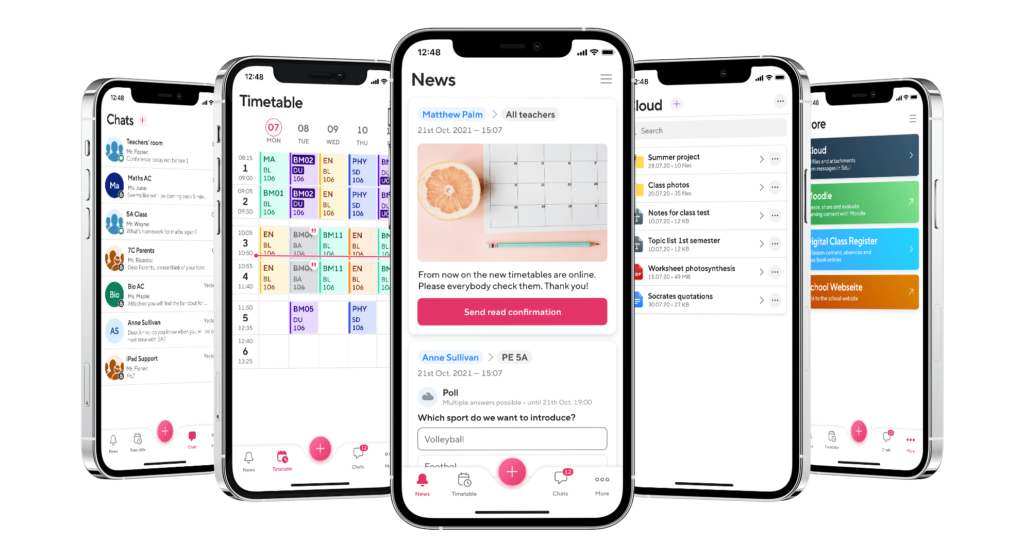 Video conference
Just like in the classroom, students in distance learning need a secure space for personal exchange with each other and with the teacher. Using a GDPR-compliant solution is mandatory by law. Zoom, Skype and similar applications cannot offer that – but Sdui can:
•   Secure Zoom alternative: Sdui is GDPR-compliant with our data being stored on German servers.
•   Start video conferences with one click directly in the chat and thus teach according to the timetable.
•   Voice calls coming soon: Make calls via Sdui without using a mobile number.
Cloud
Timetable
News
Chat
Translations
Switching between accounts
Info screen
Integrations
Digital class register
Sdui bietet viele praktische Werkzeuge und funktioniert auf allen Geräten: Smartphone, Tablet und als Web-App auf jedem Computer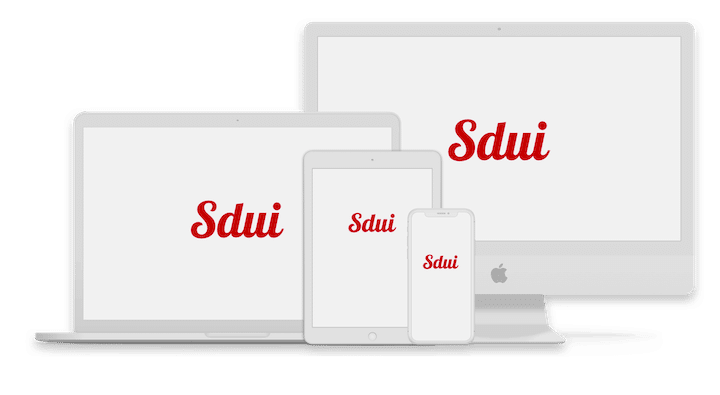 Learn how Sdui can simplify your daycare and school life in the shortest possible time
So einfach kann Digitalisierung sein
Die Einrichtung von Sdui dauert in der Regel nur 15 Minuten. So unternehmen Sie einen fliegenden Wechsel zum Onlineunterrich in einer Viertelstunde.
Sdui ist einfach und intuitiv bedienbar. Damit braucht es auch keine lange Eingewöhnungszeit – sondern der Unterricht kann mühelos fortlaufen.
Es wird noch besser: Sie investieren damit sogar langfristig in ein einheitliche, einfache und DGSVO-konforme Kommunikation für Ihre Schule. Denn zusätzliche zum einfachen Onlineunterricht, haben Sie mit Sdui für jegliche kommende Herausforderung vorgesorgt und vereinfachen die Kommunikation und Organisation des regulären Alltags Ihrer Schule dauerhaft.
Learn how Sdui can simplify your daycare and school life in the shortest possible time
How does Sdui get to my school or daycare centre?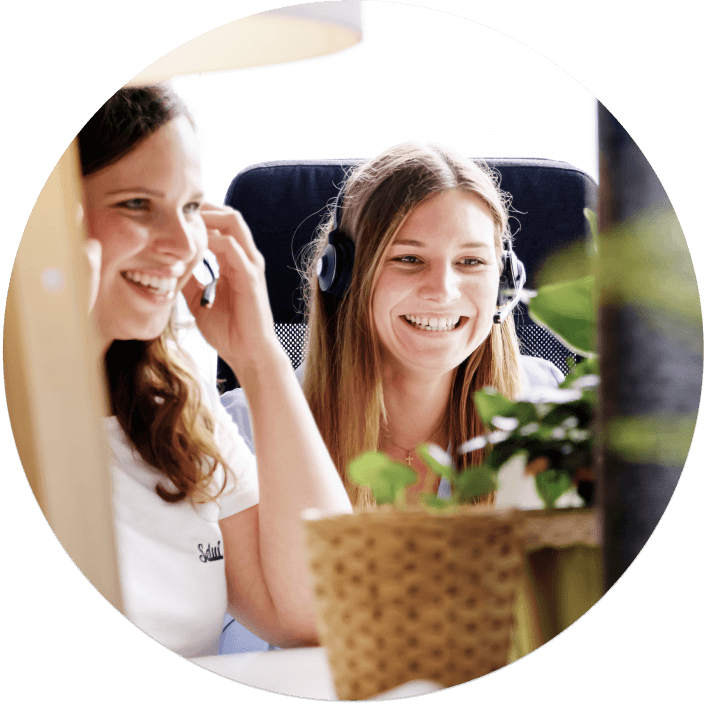 Contact us simply by using the form at the bottom of this page. Choose a date that suits you and one of our experts will get in touch with you in order to introduce you to Sdui in a free consultation.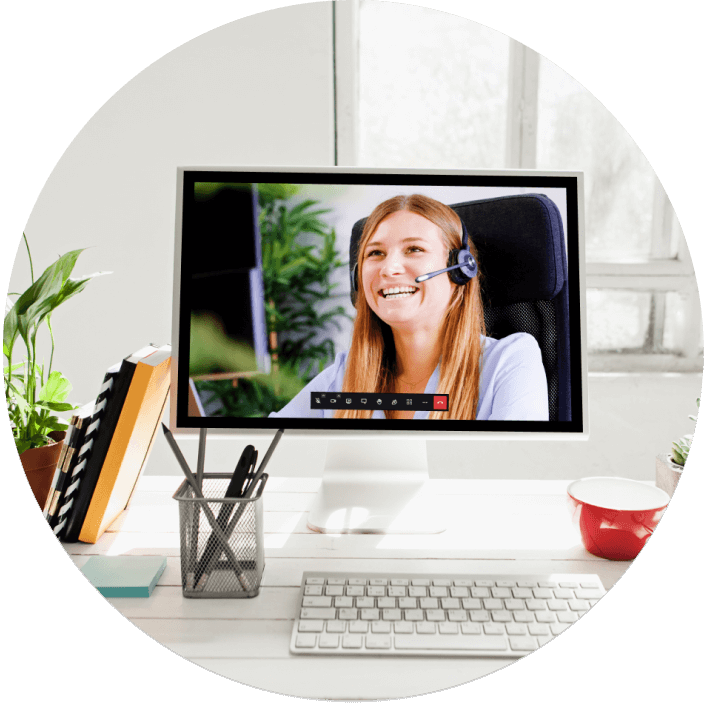 2. Getting to know each other
The short online consultation is a free of charge one-on-one meeting to find out how Sdui can help simplify the daily life of your school or daycare centre. As a decision maker, you can immediately register your institution for Sdui afterwards.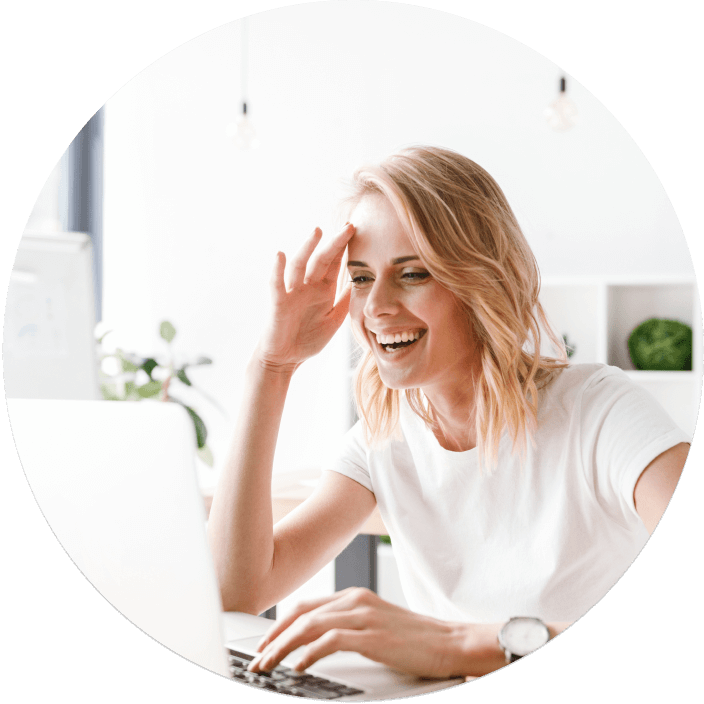 3. Get started straight away
We will create your personal Sdui environment and send you the activation codes. That's it, you are ready to get started and make school life easier for everyone! Your personal advisor is always available to provide you with advice and support.
Erfüllen Sie die offiziellen Grundsätze des Ferunterrichts
Am Beispiel eine Schreibens des Landes BaWü zeigen wir, wie Sie den Fernunterricht mit Sdui ideal abwickeln können. Entdecken Sie, wie Sie Lehrer, Schüler & Eltern schnell und einfach erreichen – mit echter Sicherheit
Tipp: Schauen Sie sich das Video im Vollbildmodus an, um einen besseren Einblick zu erhalten. Bei Fragen, kontaktieren Sie uns gerne jederzeit – wir stehen Ihnen persönlichen zur Seite.
Is your school GDPR compliant? With Sdui the answer is 100%: "yes".
With Sdui, you no longer have to worry about data protection: the Sdui app runs via an ISO-certified data center in Frankfurt to guarantee absolute security. The requirements of data protection are extensive: procedure directory, contract data processing, etc. We are happy to fulfill all data protection requirements for you. We have ready-made templates for this and can speak directly with your data protection officer if you have any questions.
So, wie der Präsenzunterricht im geschützten Raum des Klassenzimmers stattfindet, muss sich auch der Fernunterricht in einer sicheren Umgebung abspielen können. Sdui ermöglicht eine direkte, einfache und vor allem datengeschützte Kommunikation in einem geschlossenen System, das nur für Angehörige der Schule zugänglich ist.
Mit Sdui können Sie DSGVO-konform Fernunterricht per Videotelefonie halten. Zusätzlich können Sie Elternbriefe, wichtige Informationen sowie Unterrichtsmaterialien per Fingertipp teilen.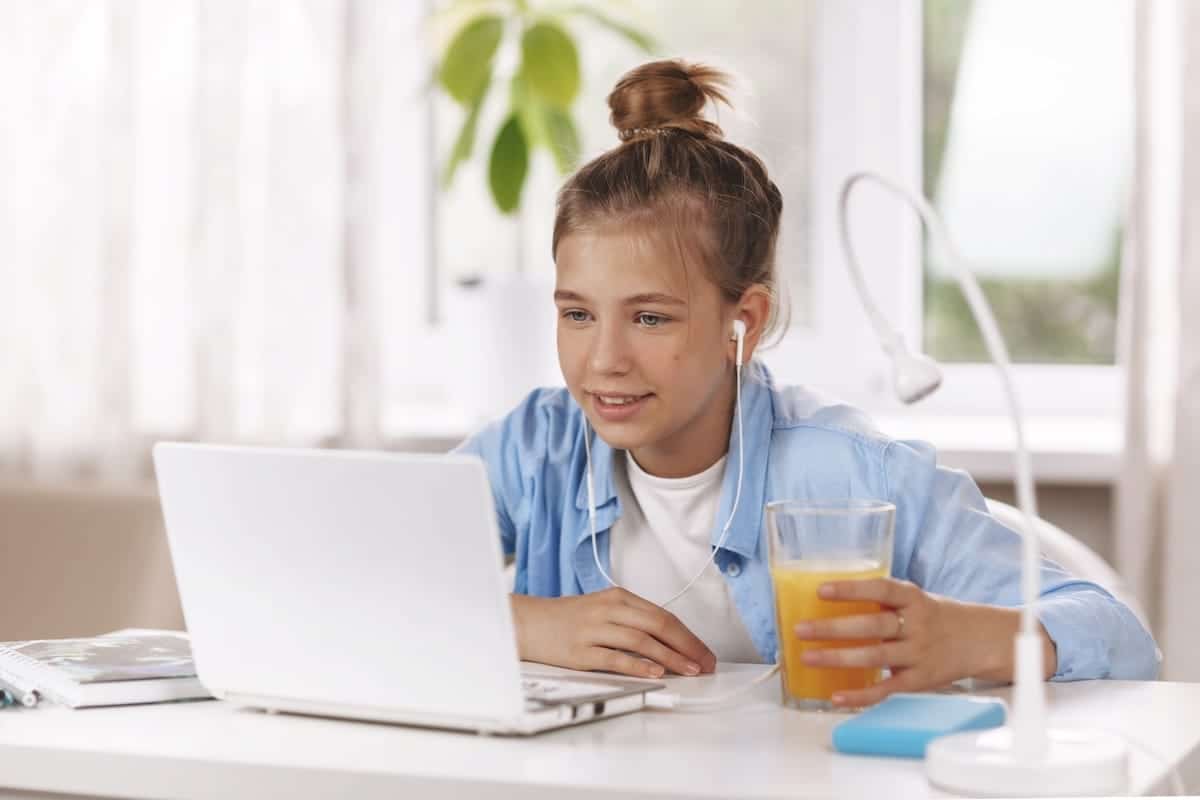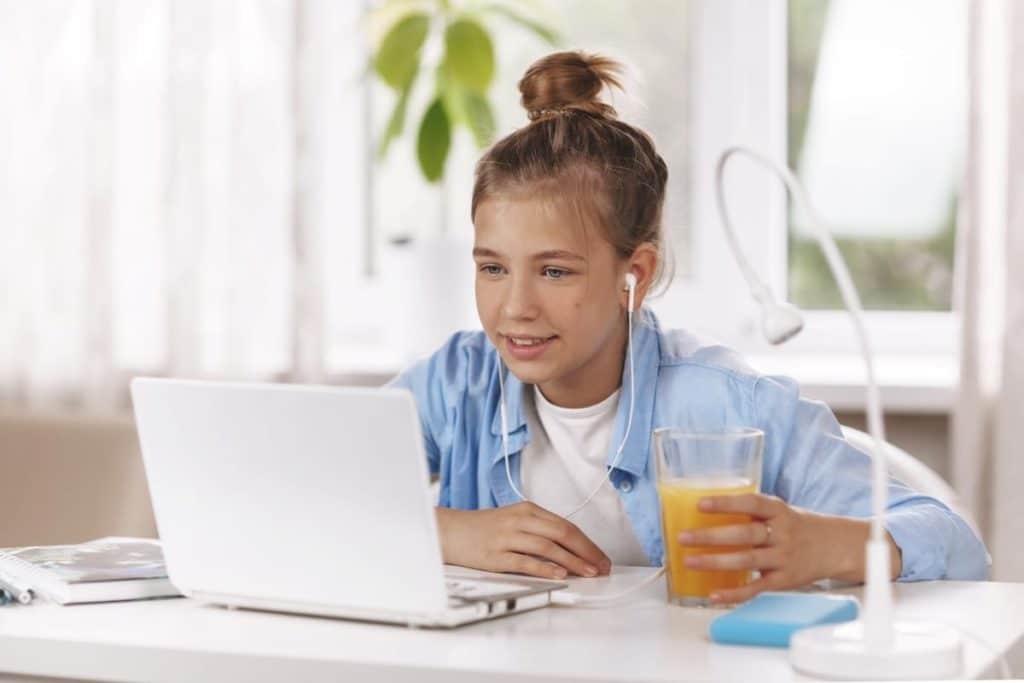 Erfahrungen anderer Einrichtungen
Kundenmeinung auf Facebook
Wir nutzen Sdui jetzt 1 Jahr und sind absolut zufrieden. Der Support ist sensationell und immer freundlich und hilfsbereit. Auch spezielle Wünsche wurden in kurzer Zeit umgesetzt und die App wurde für uns angepasst.
Klaus Obert
St. Ursula Schulen Hilldastraße
Nach einem halben Jahr im Einsatz möchte an unserer Schule niemand mehr auf Sdui verzichten. Für uns sind die wichtigsten Punkte: Einfache Bedienung (sogar für Lehrer handlebar), alle Funktionen gut durchdacht und benutzerfreundlich umgesetzt, kompletter Umfang, offener Blick der Entwickler für Verbesserungen (wo überhaupt noch möglich!) und nicht zuletzt: perfekter Service und schnelle, kompetente und sehr freundliche Betreuung.
Hans-Martin Bratzel
Realschule Tiengen
Vielen Dank an das gesamte Sdui-Team. Sie reagieren sehr kurzfristig und kompetent auf neue Bedarfe in der Corona-Krise und unterstützen dadurch unsere Lehrkräfte und Schüler im Fernunterricht mit wertvollen neuen Funktionen, Erklärvideos und dem Handbuch.
Frank Schubert
Ev. Oberschule Großrückerswalde
Ich bin so froh, dass wir Sdui haben, das können Sie sich gar nicht vorstellen. Und solange ich Sie für Problemlösungen an meiner Seite habe, haut mich hier nichts um.
Jelena Wagner
Leiterin einer Kita in RLP
Ich würde Sdui jeder Schule und jeder Kita empfehlen, weil Sie dadurch eine einfache, leichte und schnelle Kommunikation zu ihren Eltern herstellen können, die einen aber nicht überfordert. Und ich würde Sdui empfehlen, weil das Team von Sdui so toll ist.
Wir sind Ihre Ansprechpartner für eine kostenlose Kurzberatung
Gemeinsam finden wir mit Ihnen heraus, ob und wie Sdui Ihnen helfen kann.
Sich zu informieren war ein guter Schritt.
Gehen Sie nun den Nächsten.
Learn how Sdui can simplify your daycare and school life in the shortest possible time