At first glance, it seems easier to use American providers for communication during home schooling. A second look reveals that Germany needs its own long-term solutions and benefits from them.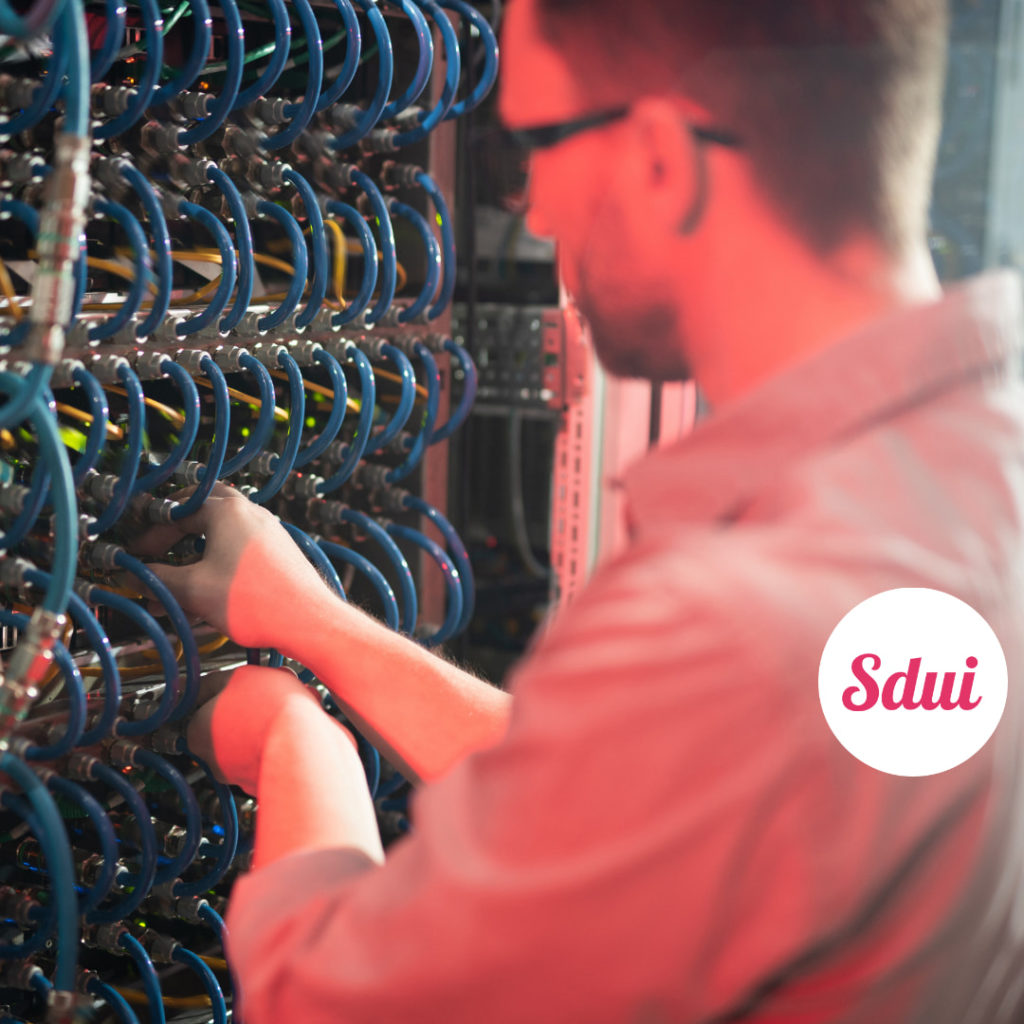 1. Data protection, server capacities and bare nerves
Regardless of the social medium you are on, comments, tweets and hashtags from completely annoyed teachers, parents and students about the current home schooling situation lurk everywhere. German learning management systems (LMS for short) and communication platforms were heavily criticized because of registration problems, interrupted video conferences and attacks by third parties. At the latest than that SWR reported on the banishment of Microsoft Teams from the classrooms, the voices of those parents who also work from home rose. With them, the daily use of teams, zoom, Skype and Co. is common practice - without ongoing difficulties. Why this is (partially) not allowed in schools and why lessons are instead accepted due to technical hurdles, were then justified questions.
2. America, the EU and data protection
This has been in effect for almost two years General Data Protection Regulation (GDPR) of the EU and regulates the processing of personal data - also in schools. Unfortunately, the content cannot always be understood at first glance for laypeople. The aim is, as can be seen from Article 1.2 of the regulation, the To protect "fundamental rights and freedoms of natural persons". In order to understand the whole debacle a little better in its context, we have to go back a few years:
In 1995, shortly after the Internet was commercialized, the Directive 95/46 / EC of the European Community, which ensured that personal data from EU member states could in principle only be transferred to states whose data protection level was comparable to EU law. Negotiations have been going on between the EU and the United States since then. Until its declaration of invalidity by the European Court of Justice in October 2015, the Safe Harbor Pact. The succession agreement came about just under a year later Privacy Shield in force, which was also declared invalid last summer. "The main consideration of the European Court of Justice was that security authorities in the United States can gain access to the data of Europeans that are held by the companies in the United States," explains the Bavarian state data protection officer Thomas Petri in a report by BR. Even if the relevance for schools does not appear immediately visible: in the future this may have an impact on current students.
Edward Snowden at the latest showed us the amount of data that is stored "just in case" in the USA. And the Netflix documentary "The Social Dilemma" makes it clear how our data is used for commercial purposes.
For example, Zoom runs on Amazon Web Services (AWS), the Cloud-Computing-Provider of Amazon, which was founded in 2006 by Jeff Bezos. With a share of around a third, AWS is the global market leader in cloud systems (see figure). As an American company, it is subject to the so-called Patriot Act. This was issued in response to September 11, 2001 to protect against terrorism and enables the US security authorities to access the servers of US companies - without a court order and also to those of their foreign subsidiaries. Even if local laws, such as the GDPR, prohibit this. The fact that AWS also has server locations in Germany doesn't mean anything: "The fact that a company uses servers in Germany only has an advantage if the company is also subject to German law", says Dirk Tiede, official data protection officer in North Rhine-Westphalia.
3. Digital infrastructure - what is it anyway?
Such revelations suggest that the US is miles ahead of us when it comes to digital infrastructure. The largest and most influential Internet companies come from there: Facebook, Amazon and Google, to name just the absolute megastars. What does the term actually mean? digital infrastructure?
According to Duden, infrastructure is a "necessary economic and organizational substructure as a prerequisite for the supply and use of a certain area". This usually means the energy supply, local transport, supermarkets, etc. With this pictorial idea, the whole thing can easily be transferred to the "digital" area: fast internet access in every household, mobile data and mobile technology, public WLAN as well as the number, networking and quality of server centers. In the school context, this means even more specifically: powerful WLAN throughout the school building, modern hardware (tablets and computers with a standard that also applies in business) accessible to every school member, School email addresses, cloud as well as simple and direct communication options between teachers, parents and students.
Not only the distribution and availability of a digital infrastructure are decisive for progress, but also how often and intensively this equipment is used. Of course, there is a mutual interaction: the better the equipment, the greater the use. And the higher the usage, the more is invested in equipment.
This already indicates that technologies are constantly changing and that a certain direction of development cannot always be foreseen - it goes hand in hand with the reality of the users' lives.
4. Germany is years behind the USA
And this is exactly where differences between the countries can be identified. In a comparative study between Germany and the USA in 2017, it became apparent that Germany was aiming for a completely different, significantly looser, time frame for digital transformation than America. In 2016, digitization was one of the top 50 topics for only 3% of the German companies surveyed. The greatest obstacles to digital transformation are mostly to be found within the company: every third group described itself as too slow and inflexible in 2017 when it came to the requirements and every fifth feared job cuts due to the expansion of digital structures.
Most frightening, however, may be the following result: digitization was not advanced due to the defense of the existing structures - in 50% of companies. How good this approach is shows the extraordinary time around Corona, in which the existing structures in all possible sectors are anything but "sufficient". Here is a fundamental difference in attitudes between Germans and Americans: they see opportunities where Germans fear risks. In the USA, digitization was already fundamentally more important in 2017 and there they were certain that it would have positive effects on their own company within a maximum of three years. In Germany, the focus was more "long-term". Companies also saw their employees differently when it came to dealing with technology: in the USA, 90% considered their employees to be qualified enough to keep pace with digital change, in Germany with 42% not even half of them.2
In conclusion, there is a logical connection from the current misery: The fact that zoom, teams, etc. worked, while a number of German providers were working on problems at the beginning of January is not due to the fact that the overseas providers are simply better - they simply had years of experience, probably had their biggest problems long before the pandemic made them so visible to everyone. The whole inner attitude in Germany is less future-oriented and open. Change causes significantly more uncertainty here than elsewhere - of course, this is reflected in the inadequate infrastructure. Corona made this clear in a bitter way.
5. Focus on user-centeredness and speed
"Digitization means questioning what already exists and looking for radical solutions. To do this, new structures, decision-making processes and methods must be created that promote innovation and speed, "says the etventure report. That digital transformation will happen is inevitable and just a matter of time. The results of the comparative study have shown: In this country there is still a lack of speed and flexibility, user and implementation orientation, but also the necessary openness for digital change.
User-centering means: to focus on the problems of potential and current users or customers. And to use these problems as an opportunity for rapid and precise development in order to be able to offer adequate solutions and relief in everyday life. It's an ongoing process because, to put it in the words of our CEO: "Growth and innovation are never linear. Progress never goes from 0 to 100. " Rather, it challenges everyone involved in society, just like in America: companies, employees, political officials and everyone who sits on the other side of the screen. And with the same will that was present in the USA years ago and the resulting necessary work steps, we too can establish the same status in Germany.
6. Establishing your own systems brings advantages
The attitude "the main thing is that it works, data protection doesn't matter" is at most a temporary solution, but not a long-term perspective. Germany and the EU should cherish the same claim to themselves that the US had a few years ago. If the helm for the digital transformation in our country is taken into our own hands, it will bring a number of advantages: German companies are subject to German law and what happens to their own data is easier for citizens to understand. Digital environments and solutions can be specifically designed for the needs of the users and ultimately be more helpful and efficient. That happens in an agile market - and it creates jobs. According to studies, the local fear of downsizing is unfounded: Digitization creates jobs and enables new professional fields.
7. Sdui shows us how
Our own company history shows that this is possible. The journey began almost exactly three years ago as a GmbH with five employees and one vision: Eliminate the problem of poor school communication and ensure that the information arrives where it is needed: in compliance with data protection regulations, secure and understandable.
In the meantime, it has grown into a company with around 50 people and the app is used by hundreds of thousands of users across Germany. Because we took a problem as an opportunity different functions and develop a solution for it. This journey is far from over and no station is perfect, but that is part of progress. As I said: not from 0 to 100, but successful if everyone gets involved in the process of digital transformation and works together.