Digital school or nursery school - easy & secure
Presential or at home: Sdui is the GDPR conform app for everyone. Discover how this app can turn a crisis into an opportunity.
Our solution for your challenge
Are you afraid of schools and nurseries closing? Are you overwhelmed just thinking about the necessary digitalisation? We at Sdui understand your situation and we want to help you right away. We can help you with our app which focuses on the needs of schools and nurseries to create a secure platform that connects. Sdui facilitates communication and enables an easy change between presence and remote lessons.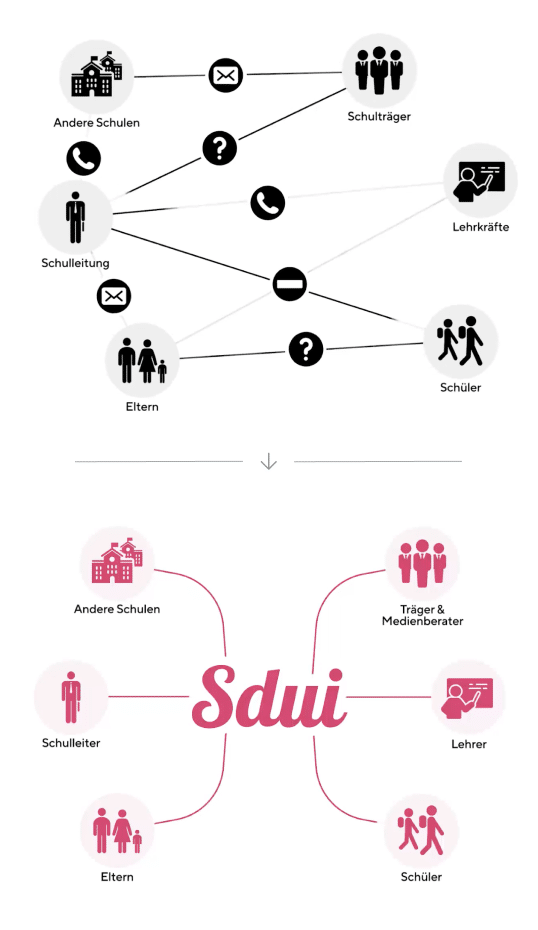 Learn how Sdui can facilitate your daycare and school life in the shortest possible time
An overview of the most important functions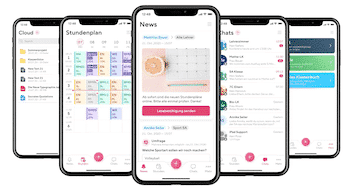 Video conference
Like in the classroom, students in distance learning need a secure space for personal exchange with each other and with the teacher. Using A GDPR-compliant solution is mandatory by law. Zoom, Skype and similar applications cannot offer that – but Sdui can:
•   Secure Zoom alternative: Sdui is GDPR-compliant and our data is situated on German servers.
•   Start video conferences with one click directly in the chat and teach according to the timetable.
•   Voice calls coming soon: Make calls via Sdui without using a cell phone number.
Cloud
Timetable
News
Chat
Translations
Changing the account
Info screen
Integrations
Digital classbook
New: The digital classbook
Sdui helps with the big topics of the day-to-day life of schools
A good solution is defined by one single criteria: does it solve the problem effectively? Each of our functions is goal-oriented to help with the challenges, directly where it is needed.
How does Sdui get to my school or nursery?
Contact us as a decision maker (school or nursery management, IT administrator…) via the form at the bottom of this page. You can pick up an appointment and one of our experts will get in touch with you to introduce Sdui to you during a free short online consultation.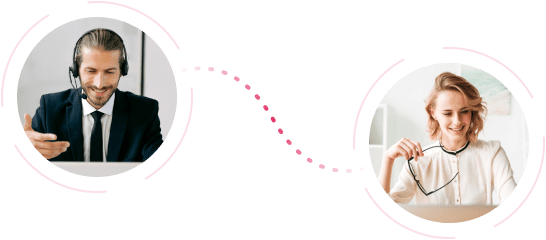 The short online consultation is a free of charge one-on-one meeting to find out how Sdui can help facilitate your daily life in your school or nursery. As a decision maker, you can immediately register your school or daycare center for Sdui afterwards.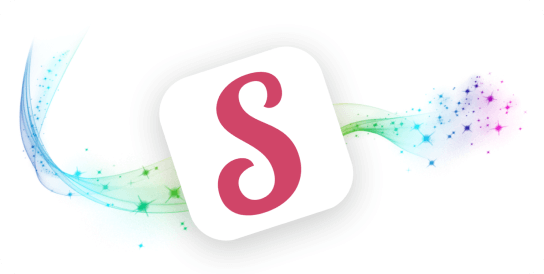 We will create your personal Sdui environment and send you the activation codes. The installation is now over and you can start using Sdui! Your personal advisor is always available to provide you with advice and support.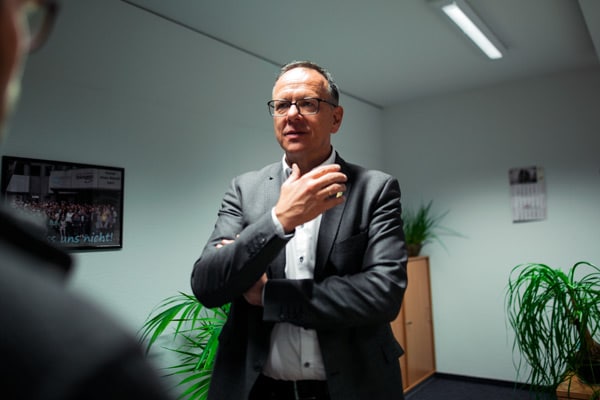 Situation: After the coronavirus pandemic the public transport could not be sufficiently adapted to the new health regulations, which meant that not all of the students were able to get to school.
Goal: A hybrid concept which enables half of the class to stay at home and the other half to come to school on an alternative base. This minimises the risk of infection.
Execution: Sdui has been chosen by the school authorities, as a uniform solution to support all schools with presential and remote lessons. We analyse the elements required to implement hybrid lessons and made integration of existing softwares possible.
Result: The schools were given Sdui: a flexible and GDPR conform platform as a basis and in combination with other solutions. Now the change between presential and remote lessons is super easy and without any problems. To this day, the model in Solingen is a perfect example for successful hybrid lessons.
Situation: In February 2020 a hurricane lead to a wind speed of up to 200 kph. This lead to the majority of lessons in school and activities in nurseries being cancelled. Parents had to be informed in an efficient and quick manner.
Goal: Ensure that all the important information reaches the relevant people so that everyone can stay safe.
Execution: The school management informed everyone about the regulations in relation to the storm for the next day using the Sdui app. The read receipt enabled them to see who had already been informed. The parents were then able to decide, whether they would send their children to school. If not, they could confirm their absence via telephone or using the Sdui app.
Result: Sdui enabled the school management to ensure the safety of the pupils and ensure that everyone is informed. The app also meant that the communication was more efficient and consistent.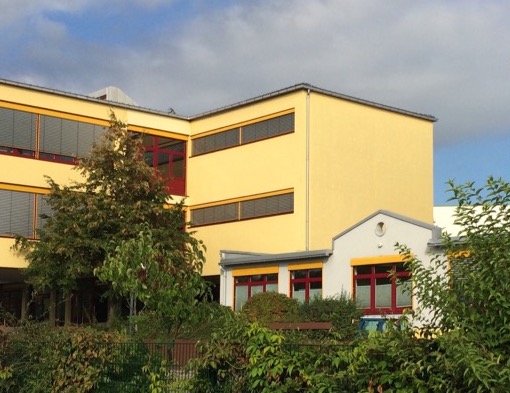 Schools, nursery schools and school authorities all over Europe trust Sdui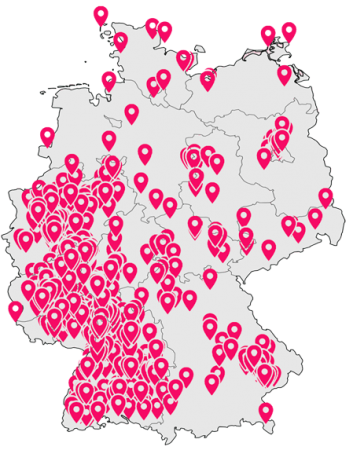 Our customer service is by your side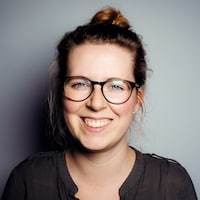 "Having a close and personal contact with our schools and nursery schools is very important to me. A better understanding of the problem, enables me to support them to find the best solution."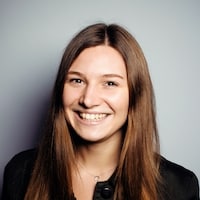 "I give schools advice all about the topic of digitalisation. I want to support them and help them to ensure that everyone can participate in lessons and activities – presential and remote."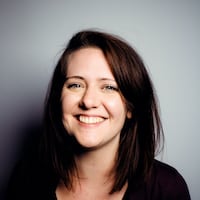 "In the last months I have helped many headmasters of schools and managements of nurseries to integrate all the members in Sdui, to ensure that all the information is accessible for everyone."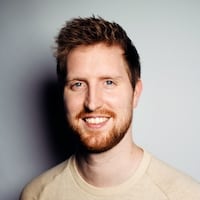 "It is an amazing feeling knowing that every day I help schools and nursery schools prepare for the future in a secure and GDPR conform way. The personal contact with educational centres is what I love – I want to help."
Schools and nursery schools reached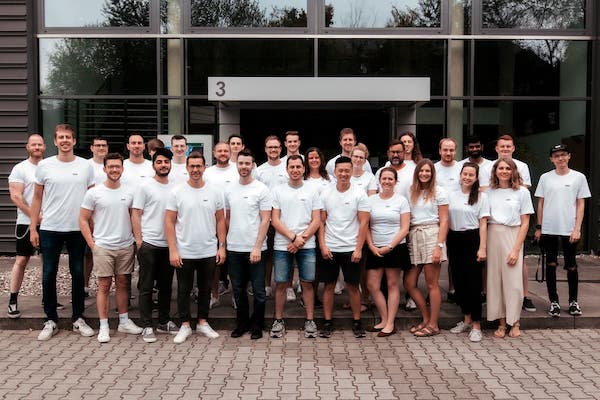 Sdui was created to build a solution to real problems. We can see where schools are today and we understand where schools should be in the future. Our team is made of ex-students and teachers and we have many more individuals on board, that can help us identify what problems schools face on a daily basis. Every day we work hard to further adapt and expand our platform to the needs of teachers, students and parents, to be able to make their lives easier. If they change, we change with them.
The real challenge of the digital transformation, is that it is different for every school and for every person. We are aware that digitalisation is not a straightforward process, as everyone has their own wishes, needs and demands. We listen to these experiences and ideas to be able to adjust the app to their needs, which enables us to create a personalised platform. The goal of Sdui is to create a platform that is both the basis and a tool. We create a platform where all the school's members are, consisting of all the solutions and functions they need as support of their daily lives. This space is what we call the "digital school".
Our vision of a digital school
Our vision of a successful digital school is based on the great exchange with schools and nursery schools. Our aim is not a replacement for presential classes at school. Our focus is to support this and ensure that lessons can happen despite of various crisis. We want to create an environment similar to the one at school, with all the members coming together in one digital place. We want to facilitate the exchange of information by creating ways of communication by text, call and video call for all the members of the school. Our dream is to create schools, where nothing has to be looked for or figured out. We want all the information to be easy to find. The functions and tools within the app are created to meet the needs of the school: everything you need is there and nothing unnecessary can be found. The digital school is secure, as it is GDPR conform and we protect students from cyber bullying and teachers from stress. With Sdui switching between presential and remote classes will be without any hassle.
This is our vision of a digital school. This is what Sdui creates.