Digitization is a must, but it doesn't have to be complicated.
Sdui's recipe for success: software & support
Sdui is your digitization partner: In addition to the app, we provide each school with a personal contact person. Our consultants have an open ear and, with their experience, help over 2.500 schools to make the digitization process successful in the long term.
Our school landscape was suddenly hit by a digital wave. But what "digital" is is by no means successful digitization: The last few months have shown that rushed purchases can end up being overwhelmed and chaos.
Sdui is not just another app on your screen, but becomes a real help in everyday school life. By understanding digitalization as a whole, we also know how best to approach it: with constant adaptability and in direct cooperation with schools and providers.
If you ever had the feeling that you were not up to the tasks of digitization, we want to tell you: You are not alone in this. You are not the problem, but the current lack of solutions that are really tailored to your needs. Instead of a perfect solution for everyone, an environment is needed in which the individuality of schools and people is also taken into account.
Our definition of a "digital school"
The goal of Sdui is a platform that is both a foundation and a tool: a solution in which all relevant people come together in a safe space and everyone can find the functions and support that make their personal everyday life easier. We call this room the "digital school".
1) Educational institution in which children and young people are taught knowledge and education through scheduled lessons
Digital environment within a school community in which all relevant people can work with the tools and information they need
Building a "digital school"
Our image of a successful digital school is based on a large number of insights that we were able to collect in direct exchange with schools. Your future viability is made up of three essential building blocks that are given in Sdui: foundation, security and tools.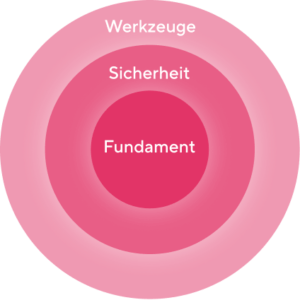 The digital school is like a secure building. That is why it must be built on a uniform foundation on which all required functions - all rooms, so to speak - are securely anchored.
On the one hand, Sdui offers essential basic functions, but also enables the integration of important data (e.g. timetables) and other solutions (e.g. LMS). This creates a central basis as the foundation for the digital school.
What is digital, it must be safe: On the one hand, because we are convinced that privacy is still modern and, on the other hand, because a lack of GDPR compliance is simply prohibited in everyday school life. Sdui holds the highest security standards, but our definition of security goes further:
Students need to be safe from bullying. Sdui achieves this through communication in chats that are exclusively supervised by teachers.
Technology beginners must be confident with the software. This is ensured by our simple user interface, as well as our range of training courses and continuous support
Teachers need to be sure that everyone will be reached. Thanks to read confirmation, the information status can be traced at any time. By all using the same platform, nobody is left out.
A good solution has one characteristic: does it fix a problem effectively? In the case of the digital school, work must be made noticeably easier through simplified communication and organization.
In the area of ​​communication, Sdui ensures direct channels with chat, video telephony, news, survey and translation functions. Improved organization is guaranteed by the digital timetable and saved administrative effort.
All other tools are simply integrated into the menu - for example Moodle or any other LMS.
Sdui is the team that supports you with words and deeds
Good software is important, but who is responsible for it is just as important. Someone has to ensure security and stability and be a contact person for users. Decision-makers want a partner on the way to digitization.
We look forward to relieving you of these tasks!
Customer opinion on Facebook
We have been using Sdui for 1 year now and are absolutely satisfied. The support is sensational and always friendly and helpful. Special requests were also implemented in a short time and the app was adapted for us.
Klaus Obert
St. Ursula Schools Hilldastraße
After six months in the field, nobody at our school wants to do without Sdui. For us, the most important points are: Ease of use (even for teachers to handle), all functions well thought out and implemented in a user-friendly manner, complete scope, the developers' open eye for improvements (where even possible!) And last but not least: perfect service and fast, competent and very friendly care.
Hans-Martin Bratzel
Realschule Tiengen
Many thanks to the entire Sdui team. You react very quickly and competently to new needs in the Corona crisis and thus support our teachers and students in distance learning with valuable new functions, explanatory videos and the manual.
Frank Schubert
Ev. Großrückerswalde high school
I'm so glad that we have Sdui, you can't even imagine that. And as long as I have you by my side to solve problems, nothing will knock me out.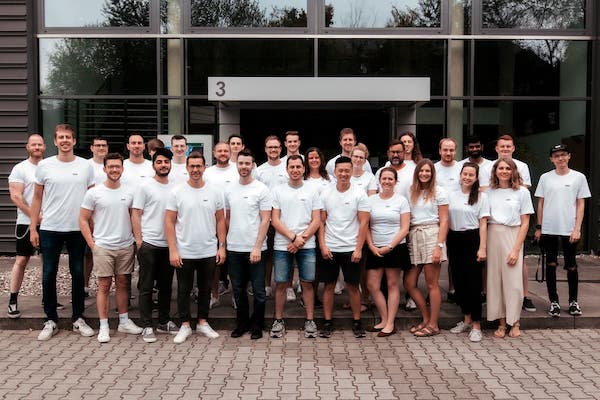 Our guiding principles for your success
We take care of the brooding so that you can enjoy a carefree day at school.
Instead of being satisfied with the status quo, Sdui works as a visionary. We observe the digital development, recognize new needs early on and offer solutions even before a problem occurs. Time is running out - our goal is to be faster and to give you peace of mind in all this.
As education geeks, we don't just do our own thing, we listen to the teacher. You are that teacher! Your personal contact person always has an open ear for your ideas, which we are happy to include in our development. The app develops closely to the needs of schools in order to offer real relief.
Behind the app there is a team full of people whose top priority is to make digitization as easy as possible for you. At Sdui, you are not alone with questions and challenges: we address them together with you and are at your side with advice and action at every step.
Every day we support several thousand schools that are in close contact with our employees. Recently still pupils ourselves, we have been learning every day for years, have qualified teachers in the team and close contact with those involved in the education system. We complement your experience with our knowledge from the economy. Our expertise extends across all types of schools and all perspectives.
There is no such thing as a perfect guide. The fact is: the decisions you will make over the next few months will set the course for everyday school life in the future. In these eventful times, we advise you to have the courage to progress: Use what is available, add what you need and replace what does not seem to fit when you try it out.
Instead of leaning all schools together, we would be happy to advise you individually on how your school can specifically benefit from Sdui. Contact us!
Digitization must go hand in hand with relief. The challenge of digital change is that it means something different for every institution, every school and every person. Everyone has different wishes, views and experiences. That is why we are also aware that digitization is not a linear path: We respond to personal needs, adjust the screws if necessary and thus want to create an environment with real added value.
Sdui is the solution that is continuously evolving to meet the needs of the providers, teachers, parents and students. In addition, Sdui is a large team of people whose heartfelt concern is to support schools in the digital age as best as possible. Let's tackle it together!