Get to know Sdui without obligation:
Digital school or day care center - simple & secure
Whether in attendance or from home: Sdui is the GDPR-compliant app for every case. Discover how the platform can turn your crisis into an opportunity.
Our solution for your challenge
Fear of school and daycare closings and excessive demands in view of the inevitable
Digitalization. Sdui understands your situation and rushes to yours with comprehensive support
Help. We do this by orienting our app very practically to your needs: Schools and daycare centers now need a secure platform that connects, simplifies communication and enables a flying change between face-to-face and distance learning.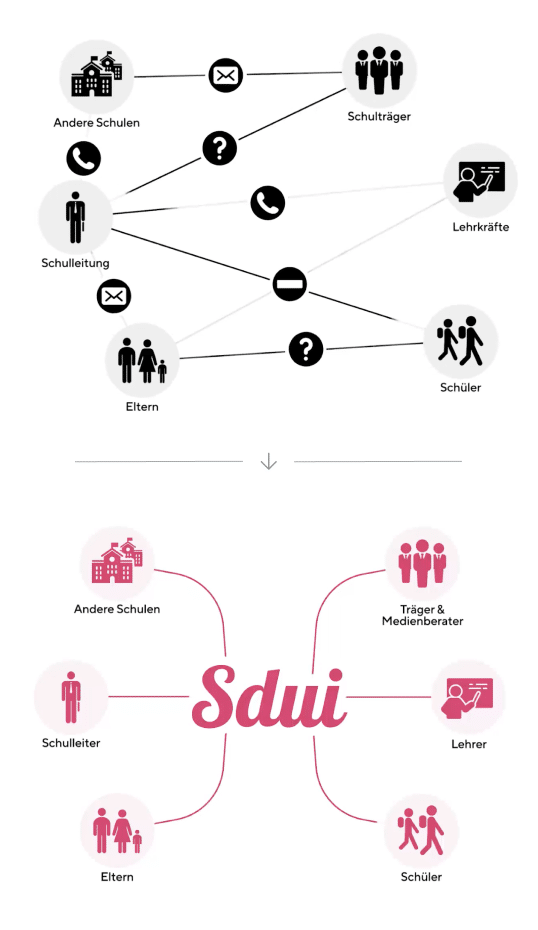 Free online consulting call
Find out how Sdui can make day-to-day day-care and school life easier for you in no time
The most important functions at a glance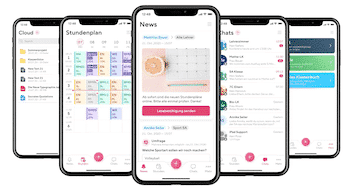 Video Conferencing
Like the classroom, students also need a safe space for distance learning for personal exchange with one another and with the teacher. A GDPR-compliant solution is legally mandatory, which Zoom, Skype and Co cannot offer - but Sdui is:
• Safe zoom alternative: Sdui is GDPR-compliant on German servers.
• Start video conferences with one click directly in the chat and thus teach according to the timetable.
• Soon also voice calls: call without a mobile phone number via SDUI.
Cloud
Timetable
News
Chat
Translations
Account Switch
Infoscreen
Integrations
Digital class book
Now new: the digital class register
Sdui helps with the big issues of everyday school life
A good solution has one characteristic: does it fix a problem effectively? Each of our functions was developed with precisely this solution-oriented view for a greater challenge, in order to de facto help where help is needed.
How does Sdui get to my school or daycare center?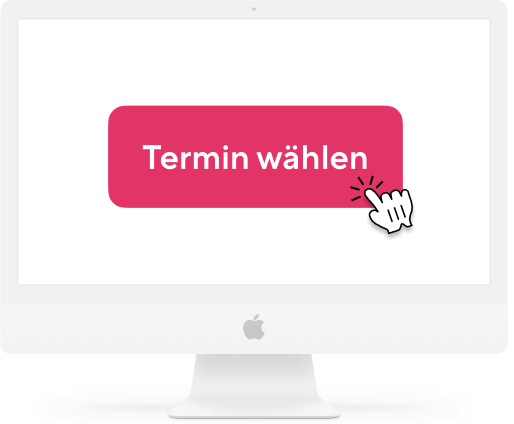 Contact us as a decision maker (school or Kita management, IT admin ...) using the form at the end of this page. You can choose an appointment when one of our experts will take time for you and familiarize you with Sdui in the free brief consultation.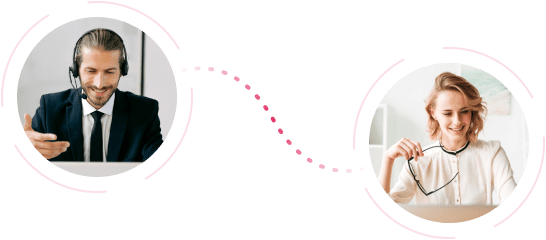 The brief consultation is a free personal conversation in which you can find out with us how Sdui can help your school or daycare center. As a decision maker, you can then immediately register your school or daycare center for Sdui.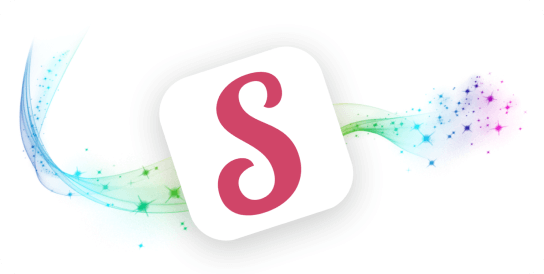 We create your personal Sdui environment and send you your activation codes. You are now fully equipped. Your personal advisor is always at your side with advice and action.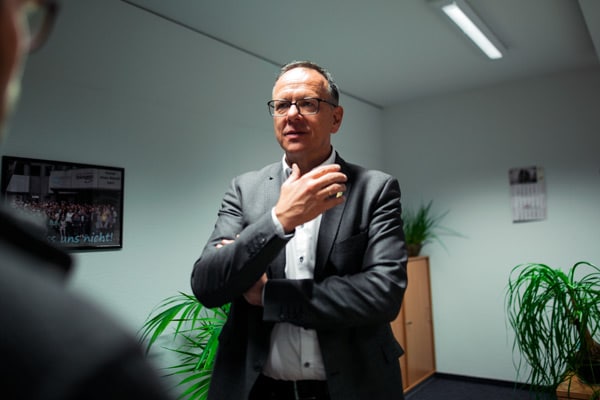 Situation: In order to resume classroom teaching during the Covid-19 pandemic, it was not possible to adequately ensure the health of the large number of commuting students in public transport.
Goal: A hybrid school concept with which half of all classes can be taught alternately at home or in person in order to reduce the risk of infection.
Implementation: Sdui was used by the executing agency as a uniform solution in all schools to provide support in face-to-face and distance learning. We analyzed which components were needed to implement the hybrid concept and created interfaces for existing systems.
Result: The schools received a flexible, GDPR-compliant platform as a basis for combining with other solutions. Switching between face-to-face and distance learning on the fly is now easily possible. The Solingen model is now considered a successful example of hybrid teaching.
Elementary school Edenkoben
Situation: In February 2020, hurricane "Sabine" caused wind peaks of up to 200km / h. Schools and daycare had to be largely closed and parents had to be informed.
Goal: Ensure that the important information reaches all relevant people at short notice and that everyone is safe.
Implementation: The evening before, the headmaster communicated the storm regulations via app in order to really reach everyone. A read receipt showed him who had already been informed. The parents decided for themselves whether they wanted to leave their children at home and could deregister them by phone or Sdui.
Result: Thanks to Sdui, the headmaster was able to take care of the
Ensure security and clarification of all relevant persons, avoid overloading the telephone system and solve a crisis situation confidently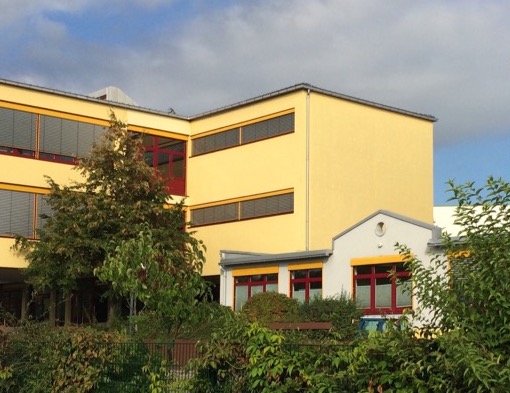 Schools, daycare centers and providers all over Germany trust in Sdui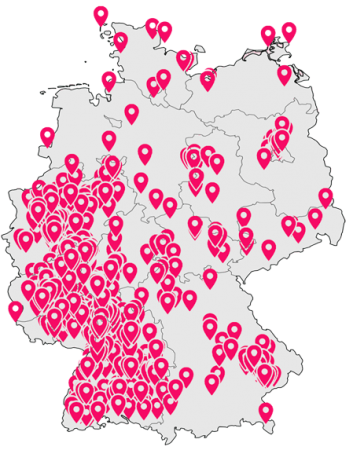 Our customer advisors by your side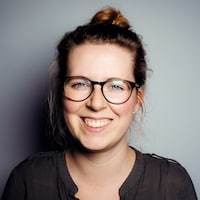 "Close, personal contact with our schools and daycare centers is very important to me. The better I understand the challenge, the better I can support. "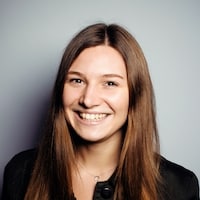 "I advise our schools on all aspects of digitization. I want to relieve them and help so that everyone can participate in the class - whether in attendance or not. "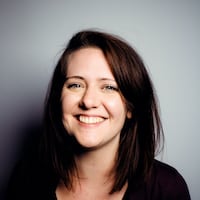 "In the last few months I have supported many school and day-care centers in integrating everyone involved in Sdui so that important information can really reach everyone quickly."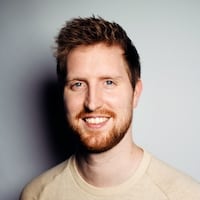 "It's nice to know that you contribute every day to preparing schools and daycare centers for the future in a GDPR-compliant and safe manner. Personal contact with the institutions is very important to me - I want to help. "
Schools & daycare centers reached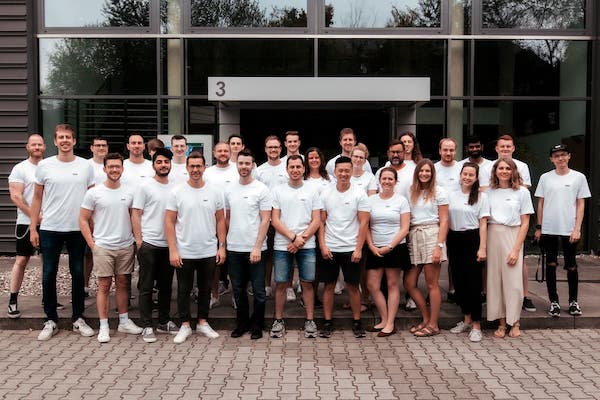 Sdui was born out of a desire to provide solutions to real problems. We see schools where they are today and understand where they should be tomorrow. As former students with many teachers in the company and environment, we know firsthand what problems schools are confronted with on a daily basis. We are working hard to adapt our platform to the needs of teachers, students and parents in such a way that everyone's everyday life is made a lot easier. Change yourself, we change with you.
The challenge of digital change is that it means something different for every institution, every school and every person. Everyone has different wishes, views and experiences. That is why we are also aware that digitization is not a linear path: We respond to personal needs, adjust the screws if necessary, and thus want to create an environment with real added value. The goal of Sdui is a platform that is both a foundation and a tool: a solution in which all relevant people come together in a safe space and everyone can find the functions and support that make their everyday lives easier. We call this room the "digital school".
Our vision of a digital school
Our vision of a successful digital school is based on a large number of impressions from our direct exchange with schools. It should not replace the school in attendance, but complement, empower and support in crisis situations. Just as all relevant participants are in one environment in the school building, they should also be able to come together digitally: a flowing exchange in oral, written and visual form with everyone, including legal guardians. We dream of a school in which there is no longer any need to look for and puzzle over how something works. Functions and tools meet the needs of school participants: there is nothing missing and nothing is superfluous. The digital school is safe: GDPR compliant, yes, but it also protects students from bullying and teachers from stress. And if face-to-face teaching is not possible, it should be able to replace this 1: 1.
This is our vision of a digital school. That's what Sdui creates.